Dance display featured armed gangs, corrupt politicians, victims of stray bullets and a child's coffin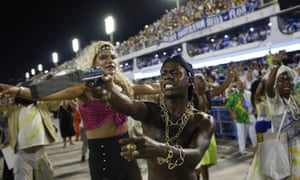 An official carnival parade by the Beija-Flor samba school in Rio de Janeiro's Sambadrome stadium, in which the country was described as a "monster", has highlighted some of Brazil's bitter realities.
The hard-hitting display on Monday night featured performers as victims of stray bullets, armed favela gangs, corrupt politicians and executives, murdered police officers, and terrified schoolchildren cowering during a shootout. An open coffin depicted a dummy of a dead child – a reference to children killed in Rio's gang-violence crossfire – while a famous drag queen appealed for tolerance.
For millions of tourists and residents, Rio's carnival is a time of cultural celebration and escape. But the city is mired in crisis – with rising street crime as drug gangs battle police and each other, failing health services, raging unemployment and an increasing number of residents who say they would rather live somewhere else.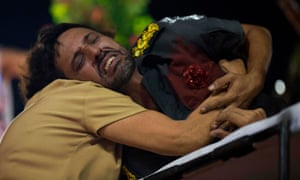 Much of these problems are mirrored throughout Brazil, which is politically divided, struggling to emerge from recession and where rightwing and evangelical Christian sectors are gaining force – increasingly intolerant of the country's once-celebrated diversity.
This year, Rio's world-famous samba schools have become more outspoken, topical, and critical in their themes. Beija-Flor's cast of thousands sang a theme that described Brazil as a "monster", attacked segregation and intolerance, and asked, "Beloved homeland, where are you going? Your children can't stand it any more."
Its parade captivated many and horrified some. Rio's O Dia newspaper described it as "confused". The actor and singer Claúdia Raia, who performed for the school, described the parade as a "hymn of lament" and a cry for help. Many Brazilians took to social media to praise it.
"The true monster is one who doesn't know how to love," tweeted one Brazilian, using the name George. Beija-Flor's parade "showed us the naked, raw truth", he said.
The school, whose name means "hummingbird", also featured Pabllo Vittar, a drag queen who has become one of Brazil's most famous pop stars, along with balloons emblazoned with words like "femicide" and "discrimination". Jordana Menezes – known as Jojo Todynho, a singer of the Rio rap style called "funk" – also performed and praised the school's theme afterwards.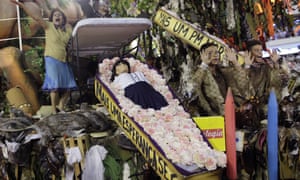 "There is a very big lack of love, of respect for the next person," said Menezes. "This theme song came to show us, people, wake up. For us to change the world we have to change within ourselves."
It was the second night running that politics had entered the Sambadrome. On Sunday, the Paraiso do Tuiuti school depicted President Michel Temer as a vampire, attacked his labour reform legislation, and featured performers dressed as slaves in chains singing a song that asked if slavery was really extinct. The Mangueira samba school featured a dummy of Rio's evangelical mayor, Marcelo Crivella, who has slashed funding to samba schools, and the slogan: "It's a sin not to play at carnival."
Many revellers at street parties wore costumes satirising Rio's poor health services and blaming Crivella. For the second year running he did not attend carnival. Instead, he flew to Frankfurt to visit the European Space Agency. In a video on his Facebook page, the mayor said he wanted to bring back "technology to improve our security".
Source: http://j.mp/2HebBqe